CleanCision Wins Reader's Choice & Bronze Medal in Medical Device Excellence Awards (MDEA) Competition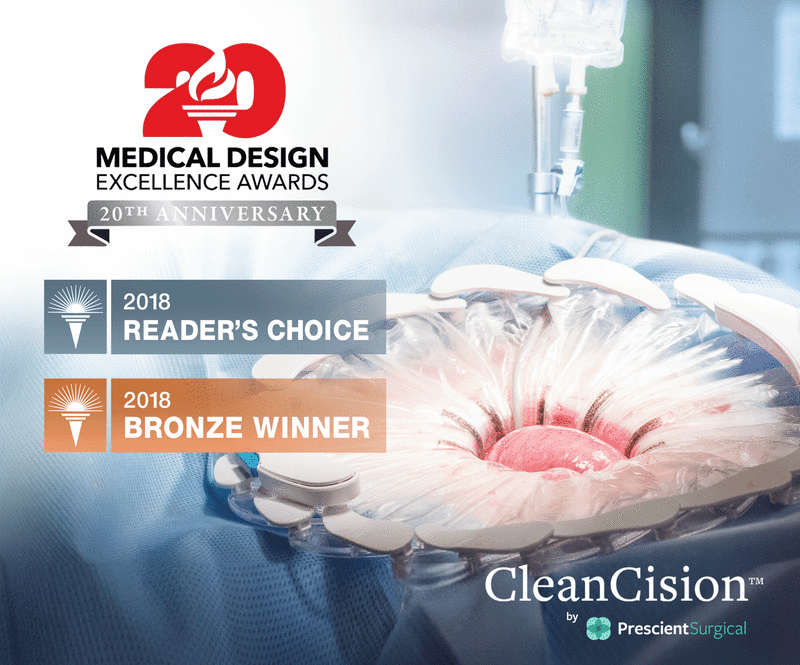 CleanCision Earns Reader's Choice Award Across All Categories and Bronze Medal in the Emergency Room and Operating Room Technology Category in 2018 Medical Design Excellence Awards Competition
Jury of industry leaders and more than 5,000 medical technology industry peers recognize how this novel, innovative active cleansing technology advances the fight against surgical site infection
New York, June 12, 2018 (PR NEWSWIRE) Prescient Surgical, innovator of advanced tools and technologies to fight and defend against the sources of surgical site infection, announced that its CleanCisionTM active cleansing technology, earned the 2018 Medical Device Excellence Award (MDEA) Bronze Medal in the ER and OR tools category. CleanCision also earned the overall MDEA Reader's Choice Award, which spans all categories in the competition.
Developed and designed collaboratively with surgeons and infection control experts, the first-in-class CleanCision system continuously clears harmful bacteria from surgical incisions by combining wound protection and irrigation into an intuitive and easy-to-use retraction system. Unlike traditional methods, which cannot continuously and consistently clear contamination from the surgical site, CleanCision has been shown to reverse and reduce these pervasive sources of infection, clearing harmful bacteria throughout surgery when the threat of wound contamination is at its highest.1 
"We share this award with the surgeons and infection control experts who collaborated with us to create an intuitive design that is filling a critical gap in hospital surgical site infection control programs," said Jonathan Coe, president, CEO and co-founder of Prescient Surgical.
The CleanCisionTM System Defends Against the Root Cause of Surgical Site Infection
Wound contamination is the root cause of SSI, yet after nearly a decade of national SSI focus, hospital teams still struggle to gain control over this invisible threat. Surgical technologies have not evolved to adequately eliminate pervasive intraoperative contamination, leaving patients vulnerable to infection. The rate of SSI can be as high as 15 to 30 percent in certain high-risk, clean-contaminated, and contaminated procedures such as colorectal surgery.2 
 About the MDEA Awards 
The MDEA is the premier awards program for the medical technology industry, recognizing significant achievements in medical product design and engineering that improve the quality of healthcare delivery and accessibility. For more information go to http://mdeawards.mddionline.com/
 About Prescient Surgical 
Based in San Carlos, Calif., Prescient Surgical, Inc. is a medical device innovator that makes advanced tools and technologies to fight and defend against the sources of surgical site infection. The company was conceived at the Stanford Byers Center for Biodesign and accelerated at Stanford StartX Med and the Fogarty Institute for Innovation.
For more information contact [email protected]

References
1 Papaconstantinou, H.T., Ricciardi, R., Margolin, D.A. et al. (2018) 'A Novel Wound Retractor Combining Continuous Irrigation and Barrier Protection Reduces Incisional Contamination in Colorectal Surgery', World J Surg (Published online March 9, 2018) DOI: 10.1007/s00268-018-4568-z
2 Zywot A, Lau CSM, Stephen Fletcher H, Paul S. Bundles Prevent Surgical Site Infections After Colorectal Surgery: Meta-analysis and Systematic Review. J Gastrointest Surg. 2017